Europe's "Kick Off" Pride – Every may with Island weather.
Held over 7 days, the second week of May, in Yumbo Shopping Centre in Playa del Inglés. The event attracts an average of 50,000 people, gays, lesbians, bisexuals and transsexuals coming from all over the world.
THURSDAY 04 MAY
SuperPop Night (Yumbo square) Drag Performances
FRIDAY 05 MAY
Welcome Gala (Yumbo Square)
SATURDAY 06 MAY
Night of tributes (Yumbo Square)
MONDAY 08 MAY
Pink Night (Yumbo Square) Ivan Banderas (Spain)
TUESDAY 09 MAY
Fashion Night (Yumbo Square) Boxer Fashion Show Mr Gay Pride Maspalomas Contest (Yumbo Square)
WEDNESDAY 10 MAY
Gala Mr Gay World 2017 (Yumbo Square) Artist Gio Box (Italy) 23:30 Profile Airlines, Dublin (Yumbo Square) Dj GSP (Athens) 23:30 "Men Only Party (Cruise Bar)Dj Ricardo Ruhga (Germani)
THURSDAY 11 MAY
20:00 Race in High Heels (Yumbo Square) Gala Drag Queen (Yumbo Square) 00:00 Everybody Together, Lisbon (Yumbo Square)Dj House of Labs (Portugal)
FRIDAY 12 MAY
20:00 Master Class CrossFit (Yumbo Square) Gala Eurofans (Yumbo Square) Artist Gio Box (Italy)
SATURDAY 13 MAY
Pride Parade (Ave Tirajana) International Gala (Yumbo Square) Funny Boys Show Fruela (Spain) INNA (Romania)
00:00 Freedom Fame Party (Yumbo Square)Big opening show
SUNDAY 14 MAY
Closing Gala (Yumbo Square)
Stay close to Maspalomas where you will find most of the busy gay bars and clubs. Taxis are cheap and plentiful.
The Sol Barbacan is our preferred location in Maspalomas, with great pool, large rooms and lots of dining options.
For further information and advice on Maspalomas Pride visit the official website.
Gay Map of Maspalomas
Most of the gay events take place in and around the Yumbo Centre. Check out our recommended hotels nearby for the perfect place to stay.
Video Of Maspalomas Pride
Highlights of the main parade during Maspalomas Pride.
Other Events in Gran Canaria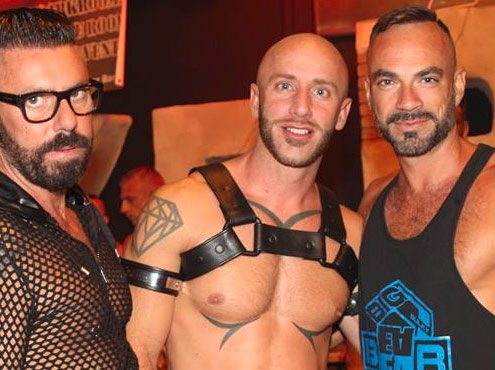 Maspalomas Fetish Week is an annual fetish meeting on Gran Canaria. Seven days of beach holidays and fetish parties.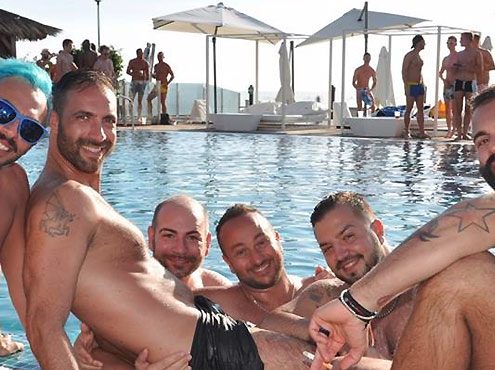 Maspalomas Winter Pride 2017 takes place on the first week of November and marks the end of Europe's Pride calendar.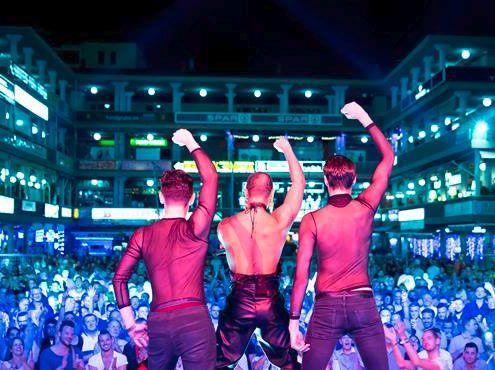 October in Maspalomas marks the arrival of the high season as Autumn descends on Europe. The Freedom Festival is the kick off party!
Recommended Hotels in Maspalomas
Hotels fill up very early for key events, with many visitors to the island returning year after year, so as soon as dates are announced you should make your reservations early! Here are our current top trending hotels.
Sol Barbacan
Great Location
Sol Barbacan offers a buffet restaurant and an a la carte restaurant, as well as a pool bar, swimming pool, 2 hot tubs free WiFi.
Axel Beach
Hetro Friendly
Adults Only features an outdoor pool, gym and tennis court. This gay and hetero-friendly, complex also has a hammam, hot tub and sauna.